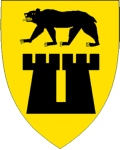 Alv Erlingsson (Alv Erlingsson den yngre, died 1290) was a Norwegian nobleman, earl of Sarpsborg and governor of Borgarsyssel.
Alv Erlingsson was born at Tanberg in Norderhov, Buskerud. Alv Erlingsson was the son of Erling Alvsson of Tanberg (ca. 1230–1283) and grandson of Alv Erlingsson of Tanberg (ca. 1190 – ca. 1240). Tanberg (Tornberg) was an old manor which was considered to have been among the oldest farms in Norderhov. His grandmother was Ingeborg Baardsdatter of Rein, sister of Duke Skule Bårdsson. Alv Erlingsson was also a second cousin of King Magnus VI of Norway.
With his father's death in 1283, Alv Erlingsson inherited Sarpsborg and served as governor of Borgarsyssel which today makes up the county of Østfold. Alv Erlingsson had a central role in Norwegian national governance following the death of King Magnus VI in 1280. King Magnus's heir, Eirik Magnusson was a minor and unable to take government control in their own hands. A guardianship board was established which would rule the kingdom on behalf of the king until he was of age. Alv was not included in the formal guardianship government, but had much power as governor of Borgarsyssel.
It is said he was a favorite of Ingeborg of Denmark, Queen of Norway, yet he committed countless acts of piracy throughout his life including making an attack on her son, Duke Håkon later Haakon V of Norway. The first construction of Akershus Fortress was started around the late 1290s by King Haakon V in response to earlier attack on Oslo by Alv Erlingsson.
His actions included seizing and robbing Danish and German vessels. Alv Erlingsson was eventually exiled for his acts. In the spring of 1290 Alv was caught on the coast of Scania by Danish forces. By order of the King of Denmark, Alv was sentenced to death and was executed outside Helsingborg.