Indiamen were prime targets for pirates, due to them usually being laden with treasure from India, the East Indies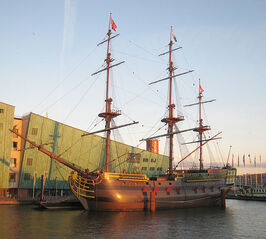 (The Caribbean) and just about anywhere else with untapped riches. They were used by the European trading companies, most notably the West India Company and the East India Company (EITC in the Pirates of the Caribbean movies) and the French East India Company. East Indiamen were designed to carry both passengers and goods and to defend themselves against piracy, and so constituted a special class of ship. In the period of the Napoleonic Wars they were often painted to resemble warships; an attacker could not be sure if gunports were real or merely paint, and some carried sizeable armaments. A number of these ships were in fact acquired by the Royal Navy, and in some cases they successfully fought off attacks by the French. One of the most celebrated of these incidents occurred in 1804, when a fleet of East Indiamen and other merchant vessels under Commodore Nathaniel Dance successfully fought off a marauding squadron commanded by Admiral Linois in the Indian Ocean in the Battle of Pulo Aura.
Ad blocker interference detected!
Wikia is a free-to-use site that makes money from advertising. We have a modified experience for viewers using ad blockers

Wikia is not accessible if you've made further modifications. Remove the custom ad blocker rule(s) and the page will load as expected.