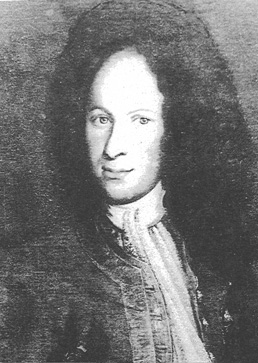 Lars Gathenhielm was born on the Gatan estate in Onsala Parish in Halland. His parents were the sea captain Anders Börjesson Gathe and his wife Kerstin Larsdotter, daughter of a mill owner in Hjälm, Fjärås Parish. Before his knighthood in 1715he was known as Lars Andersson Gathe or Lasse i Gatan.
To protect Swedish shipping from pirates and to harm the enemy, the government of Charles XII of Sweden began a maritime campaign, and in June 1710 gave Lars Gathe from Onsala permission to act as a privateer and attack ships from enemy-nations such as Denmark and Russia.
He gained a great deal of early success with his galleon Lilla Jägaren (The Little Hunter). The hijacked ships increased in numbers and many of Onsalas sailors were quickly re-educated to work the privateer ships. Lars suffered from a hip injury that made him dependent on crutches to walk and therefore probably didn't spend much time on the sea himself, but rather directed the work from Gothenburg. His strength was probably as shipowner while the practical matters were handled by his serfs. Lars was a few times accused of pure piracy (hitting Swedish ships as well) but was protected by the king himself and therefore never punished.
Lars and his brother Christian were ennobed in 1715 as Gathenhielm for their efforts on behalf of Swedish navigation; the name Gathe was taken from Lars's father to mimic the farm's name, and Gathenhielm was created as a mix of his grandparents homes. Lars was later also appointed commander in the West Coast Marine District.
Lars Gathenhielm died in 1718, at only 29 years of age, from tuberculosis, but the piracy empire he had created continued under his wife, Ingela Hammar. He and his wife are buried in Onsala Church.
Ad blocker interference detected!
Wikia is a free-to-use site that makes money from advertising. We have a modified experience for viewers using ad blockers

Wikia is not accessible if you've made further modifications. Remove the custom ad blocker rule(s) and the page will load as expected.