Mermaids were in Pirates of the Caribbean:On Stranger Tides,living in Whitecap Bay.Blackbeard needs a tear from one of the mermaids and the Chalices of Cartegena to suceed in his quest for the Fountain of Youth.Syrena,one of the mermaids,is a major role in On Stranger Tides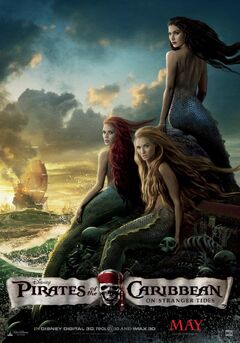 .Mermaids are cunning,alluring,dangerous,beautiful and manipulative.They lure sailors with there beautiful voices and looks and then tear them into the water and devour them with there vapire-like teeth.They are also called Sirens,for there beautiful voices.In the Whitecap Bay battle scene a mermaid named Tamara attack Scrum with her fangs after singin "My Jolly Sailor Bold"
Ad blocker interference detected!
Wikia is a free-to-use site that makes money from advertising. We have a modified experience for viewers using ad blockers

Wikia is not accessible if you've made further modifications. Remove the custom ad blocker rule(s) and the page will load as expected.