Jim Henson puts a new spin on the classic tale of Treasure Island in this tale of swordfights, sailing and treasure.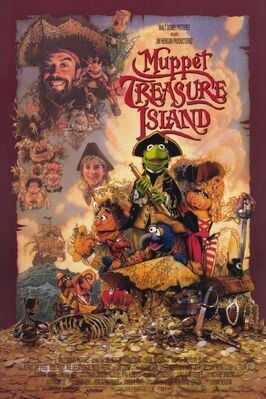 It came out on Febuary 16th 1996, the movie stars Tim Curry, Kevin Bishop and of course Kermit th eFrog, Miss Piggy and the rest of the gang! Scored by Hans Zimmer, this movie is 99 minutes long and tells the tale of the son of innowners, Jim Hawkins and his friends boarding a pirate ship and hunting for treasure on the mysterious Treasure Island.
Kevin Bishop - Jim Hawkins
Tim Curry - Long John Silver
Billy Connolly - Billy Bones
David Goelz - The Great Gonzo / Dr. Bunsen Honeydew / Waldorf / Zoot
Ad blocker interference detected!
Wikia is a free-to-use site that makes money from advertising. We have a modified experience for viewers using ad blockers

Wikia is not accessible if you've made further modifications. Remove the custom ad blocker rule(s) and the page will load as expected.