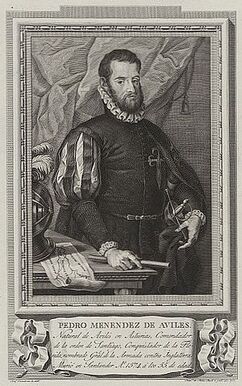 Pedro Menéndez de Avilés (15 February 1519–17 September 1574) was a Spanish admiral and explorer from the region of Asturias, Spain, remembered for planning the first regular trans-oceanic convoys and for founding St. Augustine, Florida in 1565. This was the first successful Spanish foothold in La Florida and the most significant city in the region for nearly three hundred years. St. Augustine is the oldest continuously inhabited European-established settlement in the continental United States. Menéndez subsequently became the first governor of Spanish Florida.
Menéndez made his career as a sailor in the service of the Spanish king, Philip II of Spain. His first plans for a voyage to Florida revolved around searching for his son, Juan, who had been shipwrecked there in 1561. However, following the founding of Fort Caroline in present-day Jacksonville by French Huguenots under René Goulaine de Laudonnière, he was commissioned to conquer the peninsula as Adelantado. He established St. Augustine in 1565, and later took over Fort Caroline and displaced the French. Firmly established as governor, Menéndez turned his focus to exploring the area and establishing further fortifications. He returned to Spain in 1567 and was also appointed governor of Cuba. He made one last voyage to Florida in 1572, and died at Santander, Spain, in 1574.
Ad blocker interference detected!
Wikia is a free-to-use site that makes money from advertising. We have a modified experience for viewers using ad blockers

Wikia is not accessible if you've made further modifications. Remove the custom ad blocker rule(s) and the page will load as expected.