Pintel & Ragetti are the goofballs of the Pirates of the Caribbean movies,rarely seen without each other.And is seen through Pirates of the Caribbean: Curse of the Black Pearl to Pirates of the Caribbean:At World's End.They're not the sharpest swords in the scabbard,but bring smiles ro viewer's faces.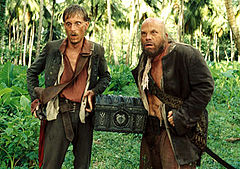 Poratrayed by Mackenzie Cook.Ragetti has one wooden eye,which is also Barbossa's Piece of Eight.
Ad blocker interference detected!
Wikia is a free-to-use site that makes money from advertising. We have a modified experience for viewers using ad blockers

Wikia is not accessible if you've made further modifications. Remove the custom ad blocker rule(s) and the page will load as expected.