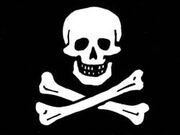 Pirates had many different names, here is a list.
Bretheran of the Coast: This was what 17th century pirates called themselves.
Buccaneer: A term of pirates who operated in the Caribbean.
Freebooter: From the dutch word "free" this was another name for a pirate.
Sea Rat: A name for a man or woman new to the pirate life.
Sea Dog: An man experienced with life on the sea.
Sea Rover: A name for a pirate.
Ad blocker interference detected!
Wikia is a free-to-use site that makes money from advertising. We have a modified experience for viewers using ad blockers

Wikia is not accessible if you've made further modifications. Remove the custom ad blocker rule(s) and the page will load as expected.