Pirates Most Wanted is the companion to Pirates and is written by John Matthews. It tells the tale of 13 of some of the most famous pirates from the late 17th to early 18th centuries during a time called the "Golden age of Piracy". The pirates include Henry Morgan, Bartholomew Roberts, Edward "Blackbeard" Teach, Edward Low, and Charlotte De Berry. Showing fun facts such as how the word "Avocado" and "Barbecue" came to be. The book was published on April 3rd 2007.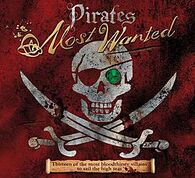 Ad blocker interference detected!
Wikia is a free-to-use site that makes money from advertising. We have a modified experience for viewers using ad blockers

Wikia is not accessible if you've made further modifications. Remove the custom ad blocker rule(s) and the page will load as expected.