Pirates of the Caribbean: Dead Man's Chest was the second installment of the now 6 part series.Starring Johnny Depp,Keira Knightley and Orlando Bloom.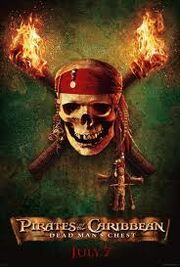 In this savvy swashbuckling tale, Elizabeth Swann's and Will Turner's wedding day is ruined and attacked by Lord Cutler Beckket and sentenced to hang for helping Captain Jack Sparrow and will face the noose unless Will can get Jack's compass and gets thrown in by Jack into Davy Jones's crew. Now they must save Will and defeat Jones, can they do it?
Jack Sparrow - Johnny Depp
Elizabeth Swann - Keira Knightley
Will Turner Jr. - Orlando Bloom
Davy Jones - Bill Nighy
Govener Weatherby Swann - Jonathan Pryce
Pintel - Lee Arenberg
Ragetti - Mackenzie Cook
Joshamee Gibbs - Kevin McNally
James Norrington - Jack Davenport
Cutler Beckett - Tom Hollander
Bootstrap Bill - Stellan Skarsgard
Marty The Dwarf - Martin Klebba
Cotton - David Bailie
Ian Mercer - David Schofeild
Tia Dalma - Naomie Harris
Ad blocker interference detected!
Wikia is a free-to-use site that makes money from advertising. We have a modified experience for viewers using ad blockers

Wikia is not accessible if you've made further modifications. Remove the custom ad blocker rule(s) and the page will load as expected.