"Everyone's thinking it i'm just saying it.Pirates." - Joshamee Gibbs
Made in 2003, the Disney action film stars Johnny Depp as (Captain) Jack Sparrow, Keira Knightley as Elizabeth Swann, Orlando Bloom as William Turner, and Geoffery Rush as Hector Barbossa.
This movie starts with a little girl ( Elizabeth Swann ) on a ship singing about pirates, and then seeing a shipwreck. The crew of that ship tugs about a little boy from the wreck named Will Turner. Who is one of the main characters in this film.The main plot is when pirates of the Black Pearl attack Port Royal, there home town Elizabeth Swann is kidnapped and Will Turner who had fallen in love with Elizabeth, teams up with pirate-in-jail Jack Sparrow to rescue her. Little does Will know that Jack is only helping him to recover The Black Pearl , Which had been robbed from him by his first mate, Hector Barbossa.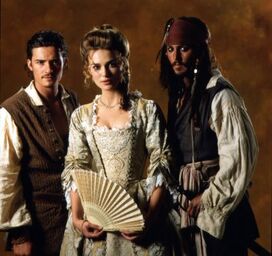 Jack Sparrow - Johnny Depp
Keira Knightley - Elizabeth Swann
Will Turner - Orlando Bloom
Norrington - Jack Davenport
Govener Weatherby Swann - Jonathan Pryce
Pintel - Lee Arenberg
Ragetti - Mackenzie Cook
Joshamee Gibbs - Kevin Mcnally
Hector Barbossa - Geoffery Rush
Ad blocker interference detected!
Wikia is a free-to-use site that makes money from advertising. We have a modified experience for viewers using ad blockers

Wikia is not accessible if you've made further modifications. Remove the custom ad blocker rule(s) and the page will load as expected.